At Hershey, Halloween is an "All Hands on Deck" time. It's our biggest season, culminating with our retail partners' Busiest Day of the Year, October 30—the day before Halloween.
To show support for our on-the-ground retail sales teams, Hershey has a program that encourages corporate employees to spend a day out in the field with our retail salespeople, to assist in their day-to-day selling activities and learn more about the work it takes to win in the marketplace. The program is called Helping Hands, and it is one of the most enlightening experiences either of us have had in our time at Hershey. Since the program's inception in 2014, more than 600 Hershey volunteers have cycled through the Halloween program, hitting 100% of all 47 of Hershey's sales districts across the U.S. with nearly 900 "volunteer days" completed.
You don't have a true grasp of what's required in-store unless you actually go into the store, and share the salesperson's experience first-hand.
We were teamed up with a sales rep named Margot, who, we were surprised to find out, had only been out of college three months! We were surprised because she already had a true veteran's grasp of her role and territory. She spoke intelligently about our brands, our growth and our priorities, and she has real love for the brands and a passion to win. Margot was a great guide through the experience, during which we learned many things about what she does every day.
It's physical work
We started early, and although we both dressed appropriately, including wearing comfortable shoes, we were still surprised at how much physical activity the work requires. We moved cases of product to strategic locations, stocked shelves and were on our feet pretty much the entire day. By the end of it, our arms and backs were sore and we were tired, but energized by the experience.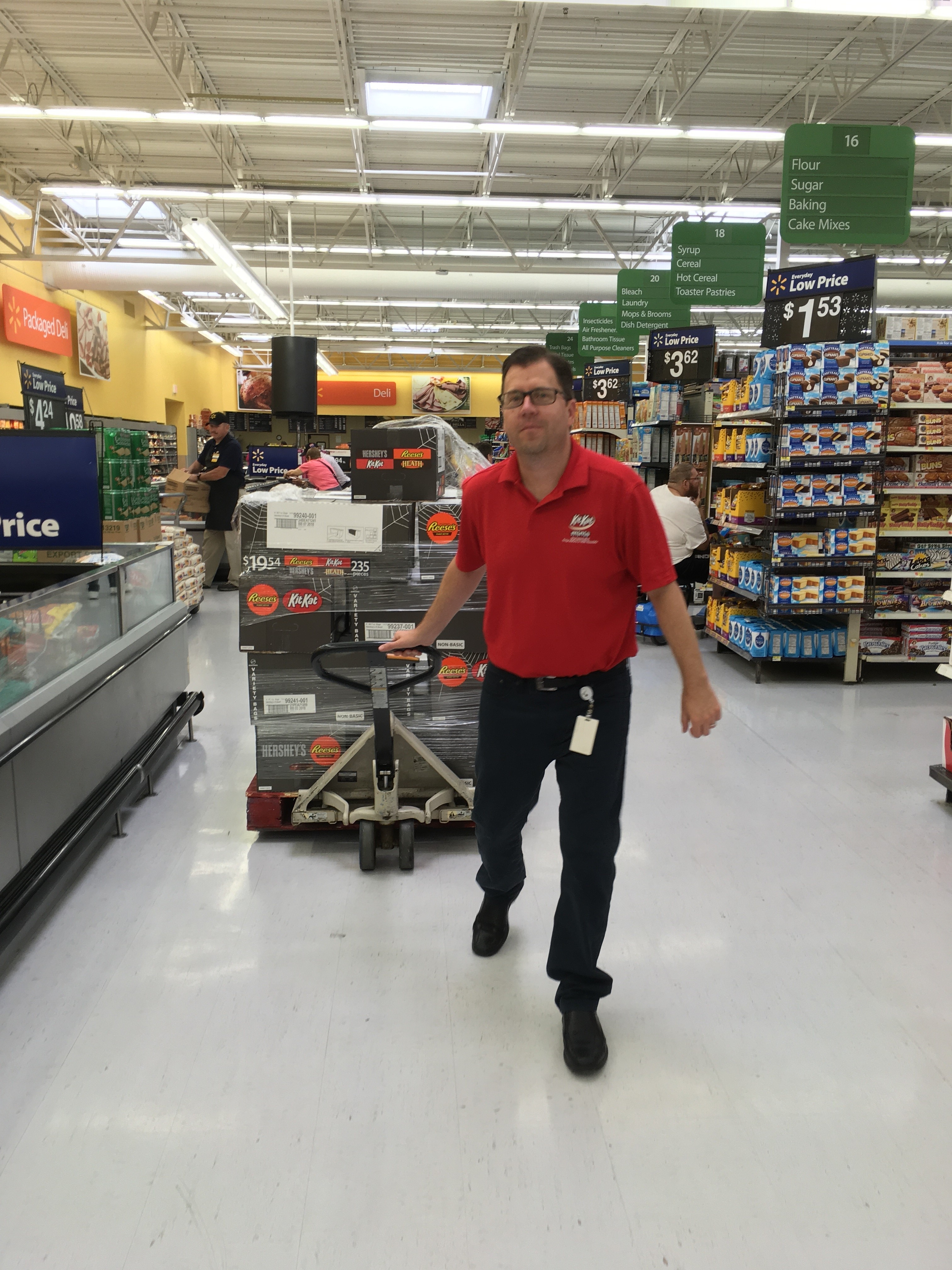 You talk to a lot of people
Even with such a short time at Hershey, Margot had already built relationships with key decision makers. And she needed them—these store managers and department managers have to make calls that can result in thousands of dollars in sales if they make the right decision, or the same amount in losses if they don't. 
Fortunately, Margot goes to each sales call armed with insight on what's driving store performance, and what brands and items are making the biggest impact to that store. For Halloween, Hershey is a clear leader. Hershey makes 3 of 5 of the top brands for Halloween: Hershey's Assortments, Reese's and Kit Kat and our top 5 brands account for an incredible 81% of seasonal sales.
The combination of this information and her relationships with the decision makers help Margot get valuable retail space for Hershey items, both in the candy aisle and elsewhere, such as the area closest to the registers, at the entrance to the store, or even in the produce department—Margot negotiated a merchandise stand in the apples section, linking our brands to autumn caramel apple making!
It takes more than two hands
Aside from the Helping Hands we provided, Margot had to have the help of back-of-store personnel—people who can get palates of product down from the rafters, and/or who can get a cart to push the product out to the display areas. Sometimes you need to catch the right person on the right day, in the right mood, at the right time to assist.
You don't have a true grasp of what's required in-store unless you actually go into the store, and share the salesperson's experience first-hand.
Consumers love our brands
It's difficult to explain the pride we felt seeing consumers choose our brands. Ian even encouraged one lady who was trying to decide whether to put Kit Kats in her basket ("Yeah! Go for it!" he told her). Sometimes you have to step back and remember—even with all the competition and energy we expend in the lead-up to Halloween—that the best part of what we do is connecting our brands with consumers, of providing kids with the trick-or-treat items they most look forward to getting, and of reminding parents of their Halloween memories and their own emotional connection to our products.
How we can use what we learned
Our Helping Hands experience has given us energy we've taken back to our teams, and provided us with insights we will use to make our business better, for this Halloween season and beyond. It's helped us recognize the impact of what we do every day, and how that connects to our front-line retail teams. It's also got us thinking about potential improvements—what can we do better next year, to help us reach consumers?
If we can lend a Helping Hand to make that happen, we are happy and proud to do so.