Whether it's the first bite of a new product, a pull-at-the-heartstrings campaign or a real-time social response that goes viral, at Hershey we strive to create iconic and memorable experiences for all of our consumers. Over the last nine years, I've had the privilege to be a part many of these experiences, but in order to continue to capitalize on these key moments and deliver unique experiences for fans, we must look for innovative ways to communicate while pushing our brands to the next level. 
I'm excited to give you a sneak peek behind the curtains on how we used the power of earned media and innovation to bring to life the historic launch of Hershey's Gold bar through media buzz, connecting to a cultural moment in time and keeping our fans first. 
A Golden Milestone
Hershey's Gold bar is a game changer. With this launch we wanted to show consumers that we're stretching our limits and taking the snacking aisle to an entirely new place, thanks to the inspiration we received from fans. They wanted something sweet, something salty, something multi-textured; we listened and our R&D team created the fourth flavor in the history of the company. 
But this massive, "first of its kind" product needed an equally massive platform to launch—Team USA and their quest for GOLD at the Olympic Winter Games 2018. 
The Road to Gold
From the November 1 unveiling of Hershey's Gold at the 100 Days Out celebration of the Olympic Winter Games 2018, there have been many "golden" opportunities to seize the moment. As an official sponsor of the United States Olympic Committee (USOC), we've partnered with legendary "Gold" athletes, like Apolo Ohno—two-time U.S. Olympic gold medalist and the most decorated American Winter Olympic athlete of all time—as well as Rico Roman—2014 Paralympic Winter Games U.S. gold medalist, Army veteran and member of the 2018 Team USA Sled Hockey team—to tell the story of Hershey's Gold. And the results? How about 2.2 billion earned media impressions and more than 667 media placements to celebrate this historic, unprecedented launch of Hershey's Gold. 
Tying this massive launch to a historic cultural moment in time has allowed for a real-time connection with our fans in a way we've never done before. 
Fan Gold Mine
Our fans are what it's all about, and as we've introduced Hershey's Gold bars to the world, we've continually reminded ourselves to come back to our fans with unique opportunities. 
Take our "Taste the Gold" promotion—every time Team USA wins a gold medal, Hershey's fans win, too. During Games Time from February 9—March 25, after each Team USA gold medal win, Hershey's brand is tweeting and posting to Facebook a celebratory link where the first 10,000 fans may claim their coupon. And let me tell you, through Team USA's first three GOLD medals, our Hershey's Gold bar coupons are going like hotcakes—four coupons per second!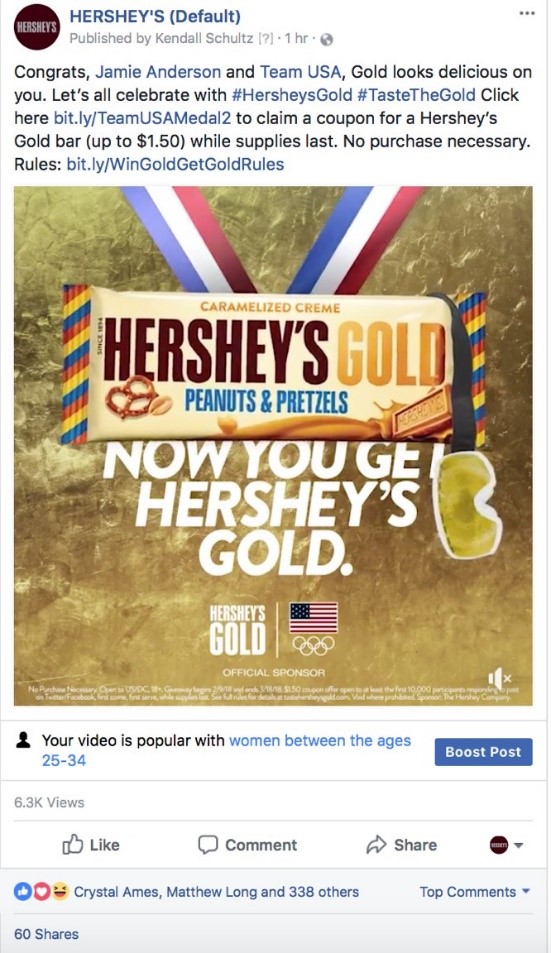 We're also embarking on something that's a first-of-its-kind, in which we're getting unprecedented access to some of Team USA gold medal winners' moments after their victories. What could be more relevant than to tell the story of a gold medal winner with a real taste of Gold! 
Our golden journey is far from over—it's really just beginning). What we have learned from this golden adventure is we must keep consumer communications fresh and innovative:
Raise the bar when it comes to precedence. Just because something hasn't been done before doesn't mean it's not possible.
Put fans first and give them something to engage with. Whether it's a telling a great story or finding a unique way for a natural product tie-in, do something that fans want to see.
Lean in to "big." Major news, major milestones deserves maximum impact. Go for it! Go for the GOLD!