Back to School partnership with Walgreens and ME to WE Foundation is a great example uncovering shared values
Partnerships work best when each of the parties offers unique capabilities
Successful retail partnerships require many levels of coordination and significant time
It's back to school season this month, with retailers across the country rolling out deals on everything from school supplies to apparel to…appliances?! But how do you go from a good idea to a program that not only breaks through at retail, but also makes an impact in the communities it serves? Our recent back to school partnership with Walgreens and the ME to WE Foundation is a great example of how uncovering shared value leveraging unique capabilities and advanced planning provide the foundation for a successful and meaningful retail partnership.
A commitment to education
Hershey is a 125 year old company that has been supporting education for over 100 years through the Milton Hershey school.  We love that sales of all Hershey products directly benefit children at this school that our founder set up in 1909 to help youth succeed.
---
The project is the first time that Hershey has created a wrapper for a partner with a donation program right on the label.
---
In the fall of 2018, the Hershey's brand had just completed the first execution of its "Heartwarming" campaign, which featured a variety of touching stories and activities that centered around friends, neighbors, and sometimes even total strangers connecting with each other through the exchange of the iconic Hershey's chocolate bar. At the same time, Walgreens had just completed its first Back to School program In partnership with ME to WE Foundation to support WE Charity.
With schools at the center of so many community connections there was an opportunity to partner in a unique and meaningful way.

The only challenge was to develop a program that would feel authentic to each of the organizations values, and one that would also engage consumers.
With advanced planning around Hershey's 2019 Back to School campaign featuring the Emoji Bars, we began discussing how we could create a partnership with Walgreens and the ME to WE Foundation that would be about more than simply selling a bar, but would offer a way for consumers to join the effort and directly support schools across the US. 

Leveraging unique capabilities
Partnerships work best when each of the parties can bring what they do best to contribute to success. 


Walgreens is offering a unique retail experience with a curated assortment of back to school products merchandised throughout its dedicated back to school aisle, with frontline employees appealing to customers to purchase the specially marked Hershey's bars at the point of purchase. Each Hershey bar purchased makes a direct contribution to the ME to WE Foundation.

All funding generated through the campaign will support the WE Teachers program, a new initiative developed by the ME to WE Foundation and Walgreens to support teachers and empower students across the US. The WE Teachers program, through the support of Mental Health America, is providing online educational support, including curriculum resources and training for teachers across America to help equip them to deal with a range critical social issues that affect their students including bullying, poverty, youth violence and mental health and wellbeing.
---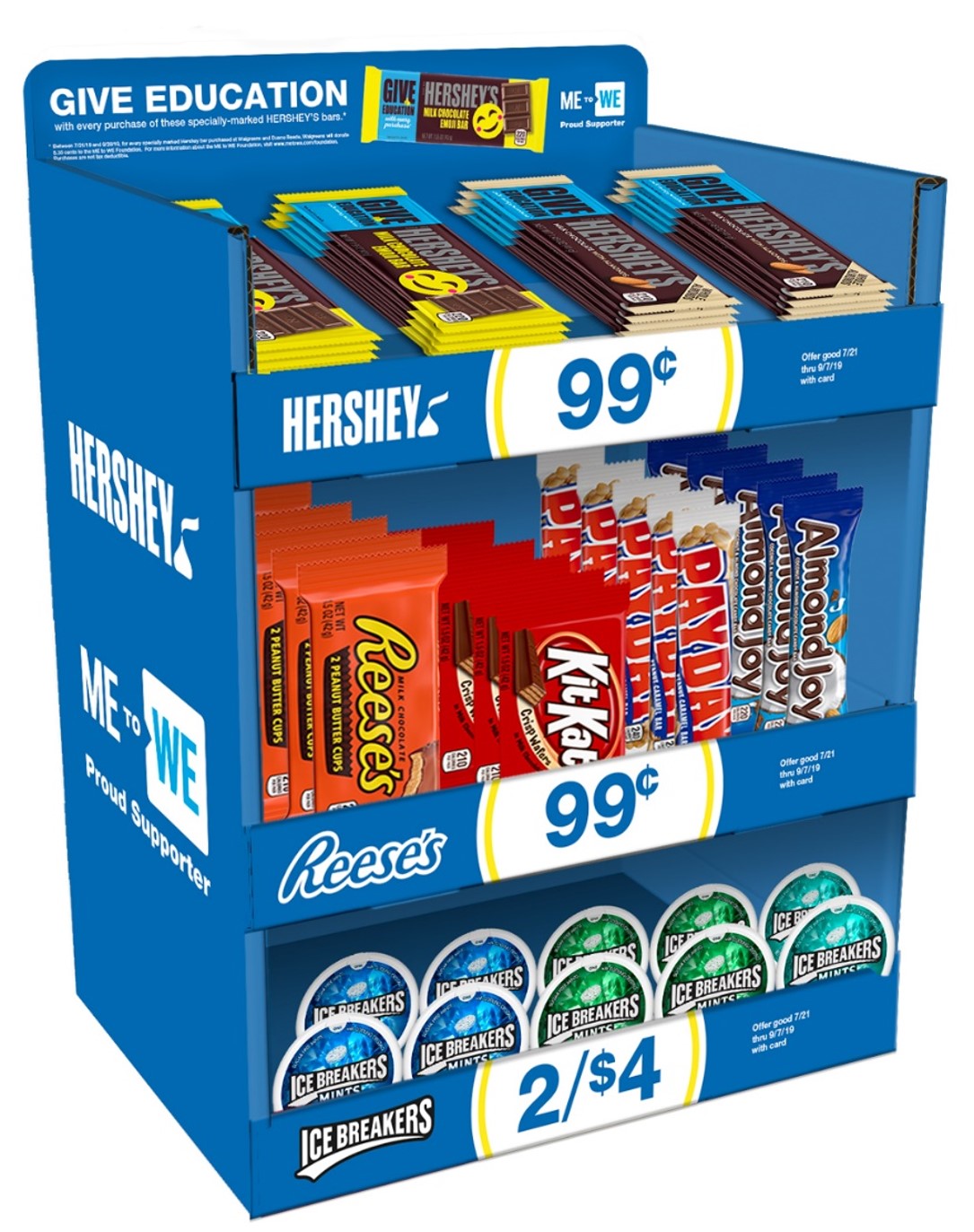 Hershey's could bring its latest product innovation (emoji bars) with specially designed packaging to support the ME to WE Foundation program. The project is now the first time that Hershey has created a custom wrapper for a partner with a donation program included right on the label. Each of the Give Education bars generates a $0.35 donation to the program thanks to the generosity of Walgreens and support from Hershey.
Walgreens is also offering the opportunity for consumers to nominate teachers (or for teachers to apply themselves) to receive a $500 WE Teachers Award. Throughout the Back to School season, customers can visit a store or go online to Walgreens.com/MEtoWE to learn more about the program and track the impact the participating brands, including Hershey's, are making for teachers across America.
---

Coordinated planning takes time
A partnership of this scale and depth takes many levels of coordination, and a significant investment of time and resources. This underlines the need for a close customer relationships. Custom creative assets, package design, merchandising and coordinated media plans can take months to produce. Special production needs to be considered, as well as the legal intricacies of donation programs and distribution considerations.
But, as students return to school this fall, all of the partners believe that the results will have been well worth the effort.