As the mother of a child with a rare neuromuscular condition, the Americans with Disabilities Act (ADA) has had a large impact on my personal and professional life.

Many of the modern conveniences we all use today originated due to the ADA.

At Hershey, our Abilities First Business Resource Group (BRG) connects those employees living with a disability with employees who are passionate about accessibility and accommodations to successfully live and work.
July 26 marks the 30th anniversary of the ADA, a landmark piece of legislation that prohibits discrimination against individuals with disabilities in all areas of public life, including employment, education, transportation, and all places that serve the public. This act was a game changer for millions of individuals with disabilities in the United States, giving them more independence and opening up doors that were previously closed to them. Prior to the ADA, many individuals with disabilities were confined to their homes because they simply couldn't access public spaces — a feeling of isolation that many of us can relate to right now due to the global pandemic.
What the ADA means for my family
My daughter, Molly, was born with a rare neuromuscular condition that causes severe muscle weakness. As a result, she uses a power wheelchair for mobility. In order for our family to participate in activities outside of our home (i.e. going to the grocery store, attending school, going to the doctor, going to Hershey Park, etc), we need plenty of space to load and unload Molly's wheelchair into our car, curb cuts to access sidewalks, and elevators or ramps whenever we encounter stairs.
Generally speaking, we don't have to worry about accessibility issues thanks to the ADA. I say "generally speaking" because we still run into access issues on occasion. For example, imagine my surprise when our family went to see the Blue Man Group in New York City and found the only way to access the theater is through a very narrow, steep staircase. Luckily, Molly is still small enough that we can carry her when we run into accessibility issues like this, but as she grows, that will no longer be an option. I'm happy to report that Molly loved the show, and the Blue Man Group gained a new fan that night! We learned from that incident, and now whenever we travel to new places, we plan every activity ahead of time and call to verify the venues we're visiting are wheelchair accessible.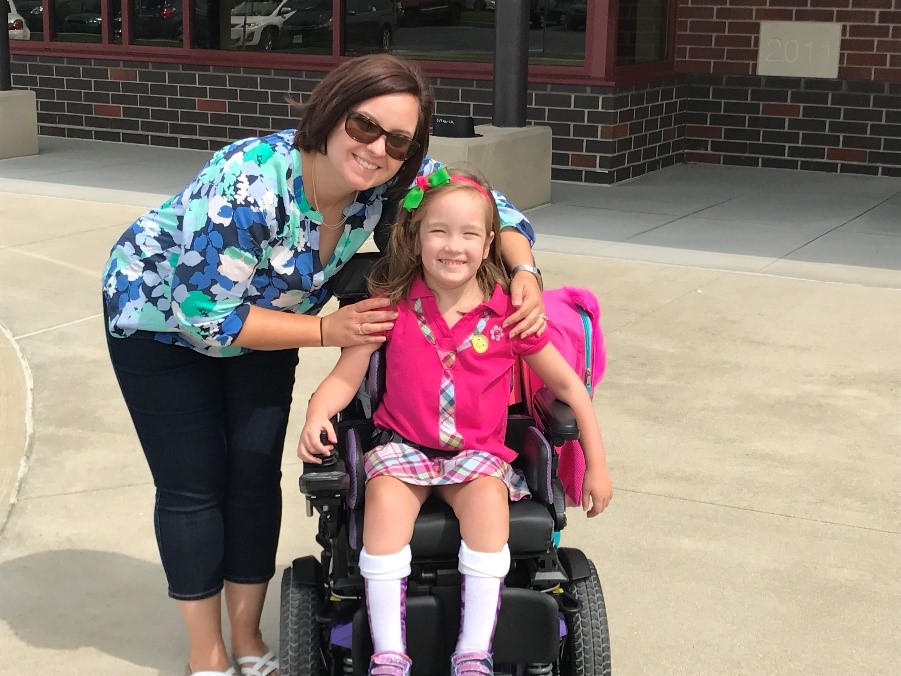 This picture was taken on Molly's first day of Kindergarten. Thanks to the ADA, Molly can bring her power chair to school, giving her independence to navigate her school and the playground with ease.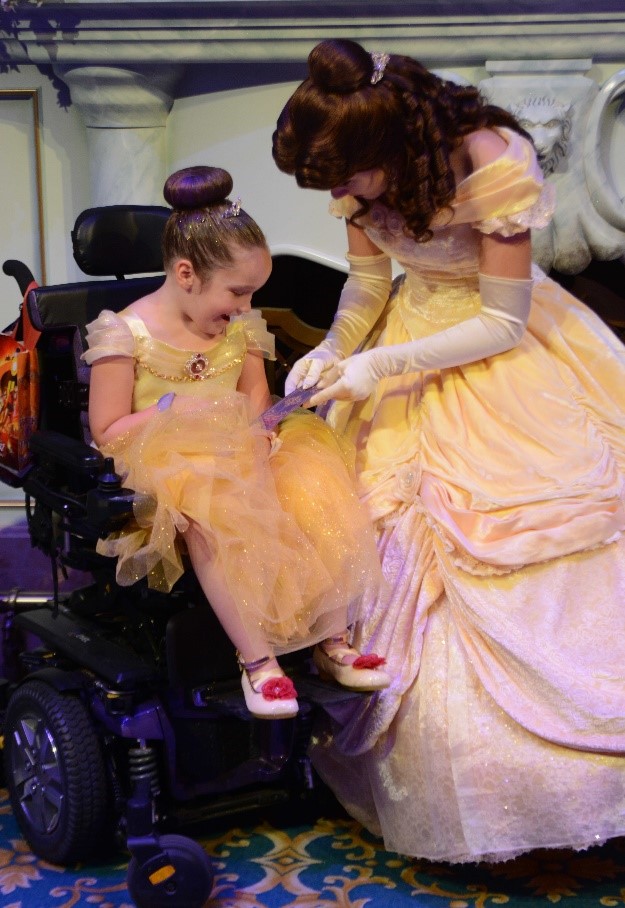 Accessible queues at amusement parks enable children like Molly to access their favorite rides, shows, etc. In this picture, Molly is meeting her favorite Disney princess, Belle, at Disney World.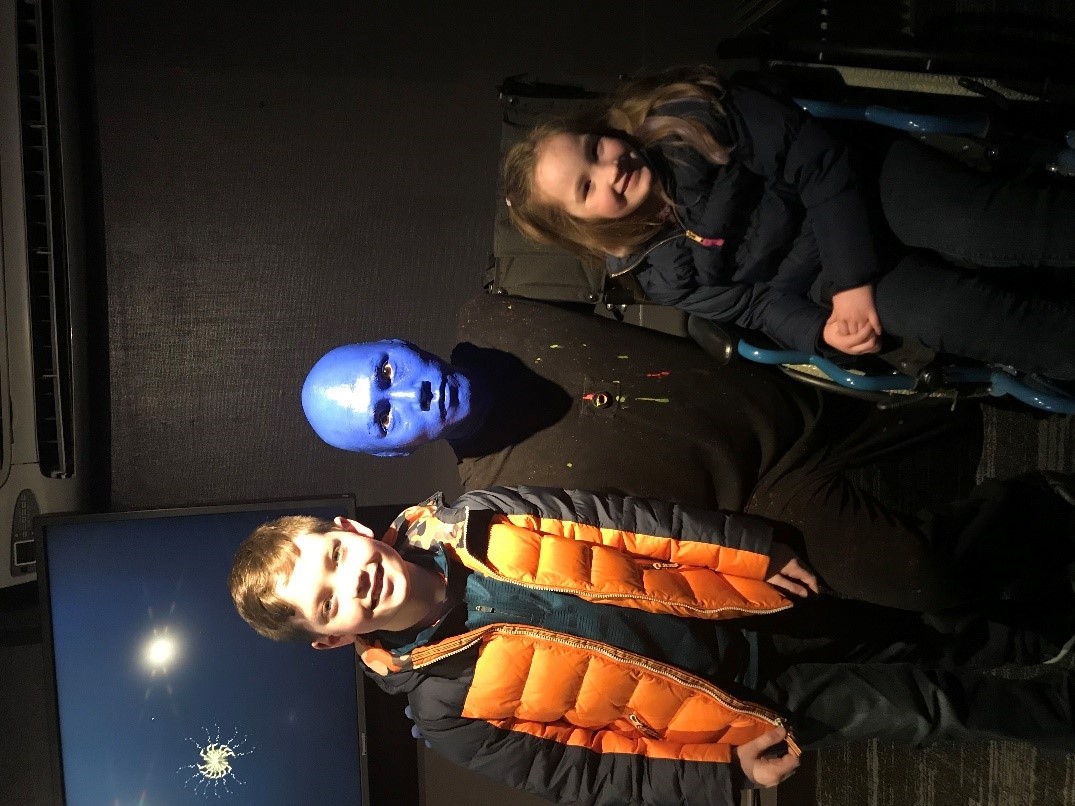 Despite the theater not being wheelchair accessible, the Blue Man Group gained a new fan!
We run into the occasional business that does not comply with the ADA, but for the most part, we're able to enjoy the same freedom of movement as other families are. That might not seem like a big deal, but when your life gets turned upside down suddenly by a disability, the little things most people take for granted suddenly take on new meaning.
The ADA benefits people without disabilities
It's not just families like mine that benefit from the ADA. Many modern conveniences we enjoy today were invented to give individuals with disabilities more independence. For example:
Text Messaging: This popular communication method was originally developed to help individuals who are deaf or hard of hearing communicate to others who don't speak sign language.

Speech to Text / Voice Recognition: This feature was designed to help individuals with disabilities easily dictate text into documents. You may use this feature today to dictate text messages or ask Siri/Alexa what the weather will be today.

Good Grip kitchen utensils: Thick silicone handles were added to a variety of kitchen utensils to make them easier for the elderly and individuals with disabilities to grasp. Their popularity extends well beyond their initial target audience and they are widely popular with cooking enthusiasts.
When we design with those living with a disability in mind, everybody wins. After all, many do not realize that people living with disabilities constitute the largest minority group and the only group someone can become a member of at any time.

Abilities First at Hershey
As a co-lead of the Abilities First Business Resource Group (AFBRG), I have a unique opportunity to pursue the passions I have developed in my family life through a company-sponsored group. Through Abilities First— which is meant for individuals with a disability (IwD) or anyone passionate about creating equal opportunities for others—we are able to raise awareness and funds for causes we feel are important and serve as advocates. One of the most beloved activities we participate in is raising and training puppies to be future service dogs for Susquehanna Service Dogs.
Through my involvement with the Abilities First BRG, I am able to learn about workplace considerations, while also advocating for people living with a disability. I am also able to help my colleagues understand what is required to continue to make opportunities equitable for employees, job candidates and our consumers.
If interested in working at Hershey, explore our open career opportunities.