Key Takeaways:
In 2020, more than ever, people want to celebrate Halloween and the break it gives from reality. In fact, recent poll showed that 74 percent of Millennial moms believe that Halloween is more important this year than ever before.
In an effort to make Halloween safe amidst the pandemic, we partnered with the Halloween and Costume Association to create the Halloween Safety Guidelines for the 2020 Season. The guidelines align with the Center for Disease Control's (CDC) social distancing guidelines and offer an interactive, color-coded, COVID risk map.
Many brands and organizations are coming together with Hershey to make Halloween enjoyable for all who partake. Check our Hersheyland.com for crafts, recipes, games and more to help celebrate safely at home!
Halloween is always a fun break from reality. When else do we get to dress up as superheroes and congratulate our neighbor on their incredibly creative costume idea? My wife and I greatly value of the safety of our family, friends and neighbors and do all that we can to protect them and ourselves during the coronavirus pandemic. We believe that the Halloween season will be a fun, safe time that we all could use right about now.
My wife, two sons and I are already in the spirit of the season. We are starting to enjoy some of our favorite treats (we can't resist when they show up in stores!), we have our decorations ready to go and the boys are finalizing their costume selections with sharks, NFL players and Minecraft characters all in the running. We are also looking forward to connecting with our community as we will be baking Monster Cupcakes to drop off at our neighbors' doors, booing many families and trick-or-treating with Halloween-themed masks and safe social distancing.
The good news, based on all the early evidence we're seeing, we won't be the only ones in our neighborhood partaking in the fun. Americans—around 70 percent of whom celebrate Halloween—are showing no signs of letting the pandemic dampen the fun and fantasy of the occasion. In fact, there are signs that many families may go bigger than before in an effort to create fun and normalcy for the kids.
For example, a recent poll commissioned by the National Confectioners Association found that 74 percent of Millennial moms believe Halloween is more important than ever this year.
Certainly, the trick-or-treat finale to Halloween season is going to have new precautions in place as communities and families tweak the tradition to follow social distancing rules. Hershey is proud to support the Halloween and Costume Association in the Halloween Safety Guidelines for the 2020 Season, including a color-coded, COVID risk-level map, provided by the Harvard Global Health Institute, in alignment with the Centers for Disease Control and Prevention's (CDC) social distancing guidelines.
The interactive tool allows users to hover over a county to display the current area risk level by color code. Each color code is then cross referenced with recommended ways to celebrate safely. There's even social distancing guidelines for trick-or-treaters, homeowners and parents which have been reviewed approved by the CDC. Users can also take a Safe House Pledge—a printable certificate that can be displayed on or near the home providing assurance to neighbors that proper safety measures are in place.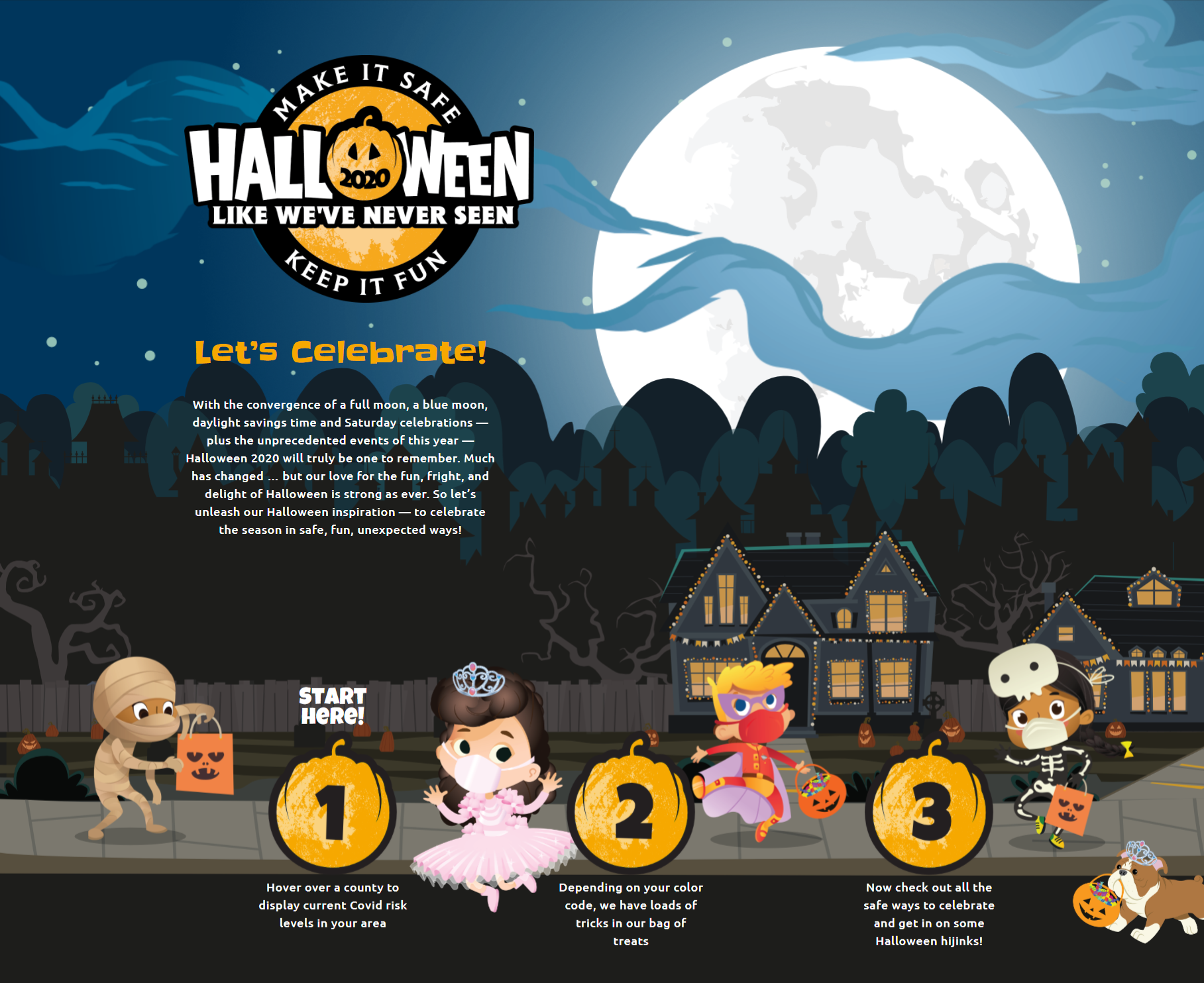 Join us and other brands including UNICEF USA, Spirit Halloween, National Confectioners Association, National Retailer Federation, and FUN.com in supporting a safe and socially distanced Halloween so families can safely celebrate the season.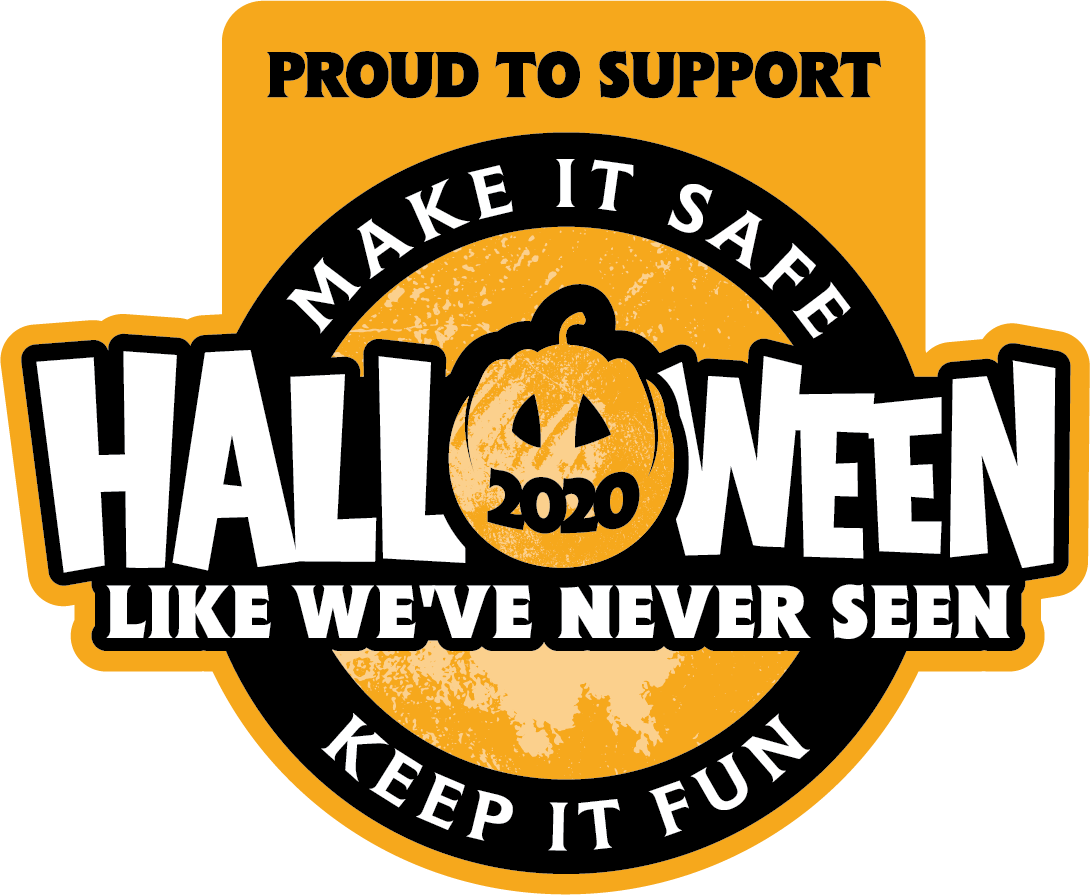 With kids having been stuck at home and back to school happening in many different ways, there's likely to be more, and earlier, home-based Halloween activities than normal as a way for parents to occupy and engage their children. Check out HersheyHappiness.com for crafts, recipes, and games to help your family celebrate safely. Curious about those Monster Cupcakes that my family will be baking? You can find that recipe and many more like Yummy Mummy Cookies, REESE'S Peanut Butter Spiders and Eerie Eyeball Cookies on Hershey Happiness. If you live near my family, expect to find some frightful, yet delicious treats on your doorstep. Let the tricks and treats of the season begin!