Crunchy. Salty. Sweet. Creamy. These are all words used by consumers to describe the newest member of the Hershey family – Hershey's Gold. For the fourth time in the history of The Hershey Company, Hershey's is introducing a new flavor, a golden flavor. But before we talk about the newest member to the Hershey's family, let's take a trip down memory lane…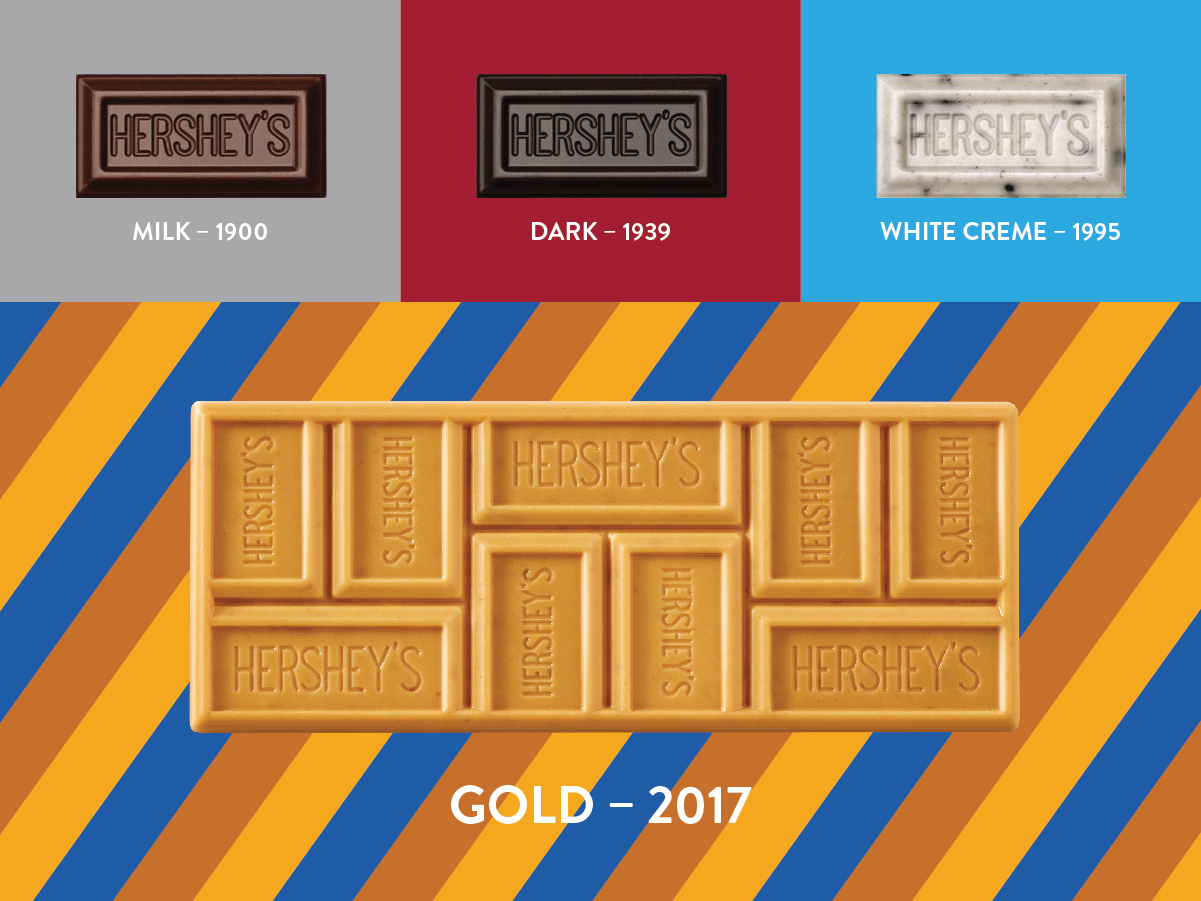 Beginning in 1900, Hershey began delighting families with our iconic milk chocolate bars. The launch of these bars was a major turning point for the company, putting it on the map to become the leader in the American confectionery industry. Later, in 1939, we introduced Hershey's Special Dark chocolate, and in 1995 we brought consumers Hershey's Cookies 'n Creme bars – widely known as one of Americans first introductions to white chocolate – opening up our appeal to new groups of consumers. More than two decades later, we are bringing consumers another brand new experience with Hershey's Gold, our fourth flavor in 117 years, inspired by our consumers.
The introduction of Hershey's Gold bars marks a defining moment for The Hershey Company as a chocolate innovator while also commemorating the influential and cultural moment of the Olympic and Paralympic Winter Games.
Variety is the name of the game when it comes to what people want in their treats[1].  They are looking for sweet and salty combinations, different flavors and textures and crunchy and creamy tastes. Pairing insights with the work from our colleagues in research and development, we were able to create a unique experience for our fans to enjoy the iconic Hershey's brand in a new way – a golden way.
The new Hershey's Gold is made with caramelized creme and a combination of salty, crunchy bits of peanuts and pretzels that delivers a creamy, crunchy satisfaction. It was created using a first-of-its-kind, proprietary process to transform white creme into solid 'gold' by caramelizing the creme in a specialized kitchen. Oh, and is it as good as it sounds? The answer is yes!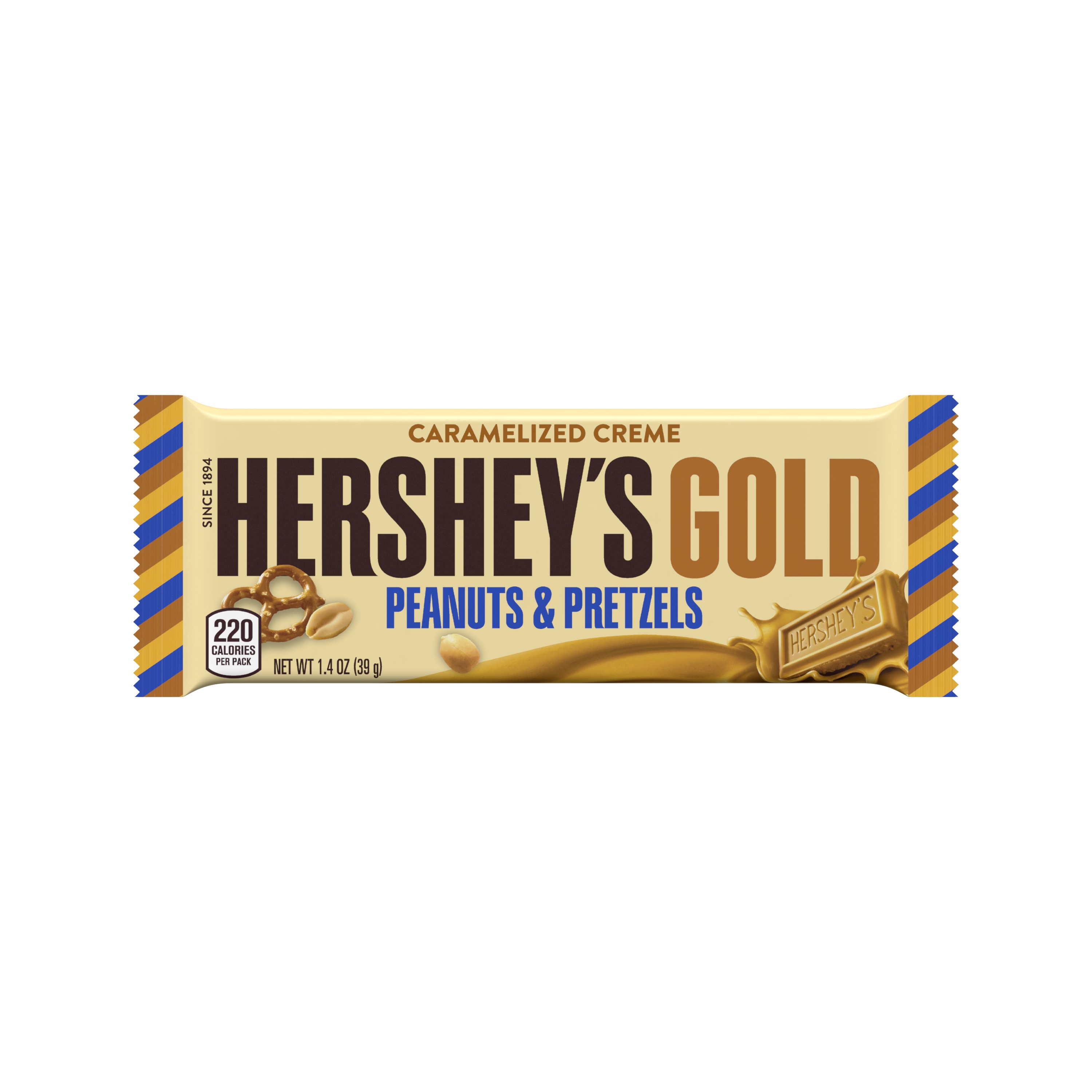 What else makes this a historical, one-of-a-kind moment? The Olympic Winter Games 2018. In celebration of our official sponsorship of the United States Olympic Committee (USOC) and Team USA, we chose today, November 1, to announce this innovation. Today, November 1, 2017, marks exactly 100 days from the start of The Winter Games; a time when gold is top-of-mind and Team USA gears up for another dominant performance on the world stage. The debut of our fourth flavor, Hershey's Gold, was an opportunity to commemorate this golden occasion with The Games, an iconic cultural moment for consumers, Team USA and The Hershey Company to share together.
Hershey's Gold bars will be available beginning December 1. But for now, we celebrate a golden moment for our company, our business and a pathway as one of the top innovators in the food and beverage industry.
More than 100 years and four flavors later, Hershey's brand continues to be at the forefront of product innovation in the confection industry. We are proud of the tradition of excellence that The Hershey Company provides, as we continue to pay homage to the legacy of our founder Milton Hershey. Hershey's Gold bars have created a new chapter in the Hershey legacy and we look forward to bringing to life the next innovation that consumers will love.
Visit www.HersheysGold.com for more information on Hershey's Gold Caramelized Creme Peanuts & Pretzels.
---
[1] Source: Research & Markets Report, "Confectionery Market in the US 2017-2021"