Key Takeaways:
We're thrilled to celebrate all women and girls with the nation-wide launch of our Celebrate SHE campaign.
The iconic Hershey's Milk Chocolate Bar packaging has a new look to highlight the central role that SHE plays in our name and all of our lives.
Aligned with our long-standing commitment to helping children and youth succeed, we're partnering with Girls on the Run as our non-profit campaign partner.
When you reach for a beloved Hershey's Milk Chocolate Bar this spring, you might notice something a little different about the packaging. As a part of our Celebrate SHE campaign, we're highlighting three very important letters in the center of the iconic name: SHE. Leading into Women's History Month in March, this is our way of celebrating women and girls where they stand in our lives...front and center. After all, there is no Hershey's without SHE.
While this is the first year of a national Celebrate SHE roll-out in the U.S., the campaign has some momentum. In 2020, Brazil first launched a campaign focusing on celebrating female artists. India joined in 2021, honoring female leaders. Also in 2021, a small and mighty team of Hershey women brought the idea to life in the U.S. via grassroots efforts. They decided International Women's Day—which is a chance to reflect on progress made, to call for change and to celebrate acts of courage and determination by women—was the ideal date to celebrate SHE.
So on March 8, Hershey's Chocolate World locations across the U.S. handed out limited-edition Celebrate SHE bars. We also launched a PR and social influencer campaign, and celebrated legends, such as Marsai Martin (an actress and the youngest person to ever produce a movie), Gloria Steinem (the feminist and journalist) and Katherine Johnson (a mathematician for NASA). Consumers loved it, so this year we decided to celebrate in a bigger way and make the bars available nationwide.
Launching a social campaign in an authentic way
It's been an exciting endeavor, driven by creativity and collaboration. See, as we started to build the national program, we realized that we needed to go beyond our traditional tactics. We've gotten really good as a company at launching new products and driving occasions, such as S'mores and Halloween. But this was different. It wasn't just about selling more candy. We wanted to drive real social change—celebrating the inspiring women in all of our lives—but how exactly does a chocolate brand do that? And why would consumers listen to Hershey's? We believe that people have an innate desire to celebrate those they care about, but it's not always top of mind. What simpler (or sweeter) way to tell someone she inspires you than a Hershey's bar? We wanted to take things a step further and support an organization inspires us in their efforts to advance this very cause. We fell in love with Girls on the Run, which inspires girls in 3rd through 8th grade to build confidence and important life skills through dynamic, interactive lessons and physical activity.
This physical activity-based, positive youth development program has impacted more than two million girls of all backgrounds through a network of 175 local councils serving all 50 states and Ottawa, Canada. Their vision is to help create a world where every girl knows—and activates—her limitless potential and pursues her dreams. We felt that fit perfectly with our goals and our company's long-term focus and investment in women and girls. After all, we were named #1 on Forbes' list of the World's Top Female-Friendly Companies. In addition to providing Girls on the Run with financial support (we're donating $150,000) and encouraging Hershey employees to participate in the program's efforts, we're working to provide a platform and amplify the work of Girls on the Run—and, of course, we're celebrating their members by sending along some of our Celebrate SHE bars.
We've also partnered with the always witty Mindy Kaling to help us get the word out about the Celebrate SHE Campaign. We love Mindy for her track record of standing up for women and women's issues and doing so in a hilarious and charming way. Issues facing women and girls can, of course, get heavy, and Mindy brings a sense of levity to the topic, without undercutting its importance.
Driven by values and purpose
On a more personal note, I'm thrilled to be a part of this new campaign. I've been completely blown away by the excitement and engagement of people all across Hershey wanting to get involved as soon as they hear about it. To me, the Celebrate SHE campaign is the culmination of why I came to work for The Hershey Company four years ago—not just because of the amazing brands, but also because of what the company stands for and how leaders continue to show up for employees, communities and consumers. I was moved by the powerful female leadership in the organization (Michele Buck had just become CEO before I started) along with the company's support of Milton Hershey School and so many other causes. I was looking for a career that aligned with my values, and at Hershey, I know I've found that.
Of course, when it comes to retailers and consumers, I don't expect them to know about the inner workings and female-forward initiatives at Hershey. But I hope the Celebrate SHE Campaign will raise awareness, drive conversations around recognizing the women in our lives and spark celebrations. According to research by our Insights team, 78 percent of consumers say they wish more brands and companies would stand up for women. And for good reason. Culturally, girls are told from a young age how to act and who to be in this world. Their confidence drops to its lowest during their adolescent years as a result, which is a critical time in their emotional development. Even as adults, women continue to be told by society and even by brands how they should show up. Users on social media are quick to judge and post a negative comment. And don't even get me started on the notion of women trying to have it all. It's exhausting. The pandemic has only amplified these pressures on women as they continue to balance work and caring for others, whether it's children, aging parents or friends—not to mention also making time and space for caring for themselves.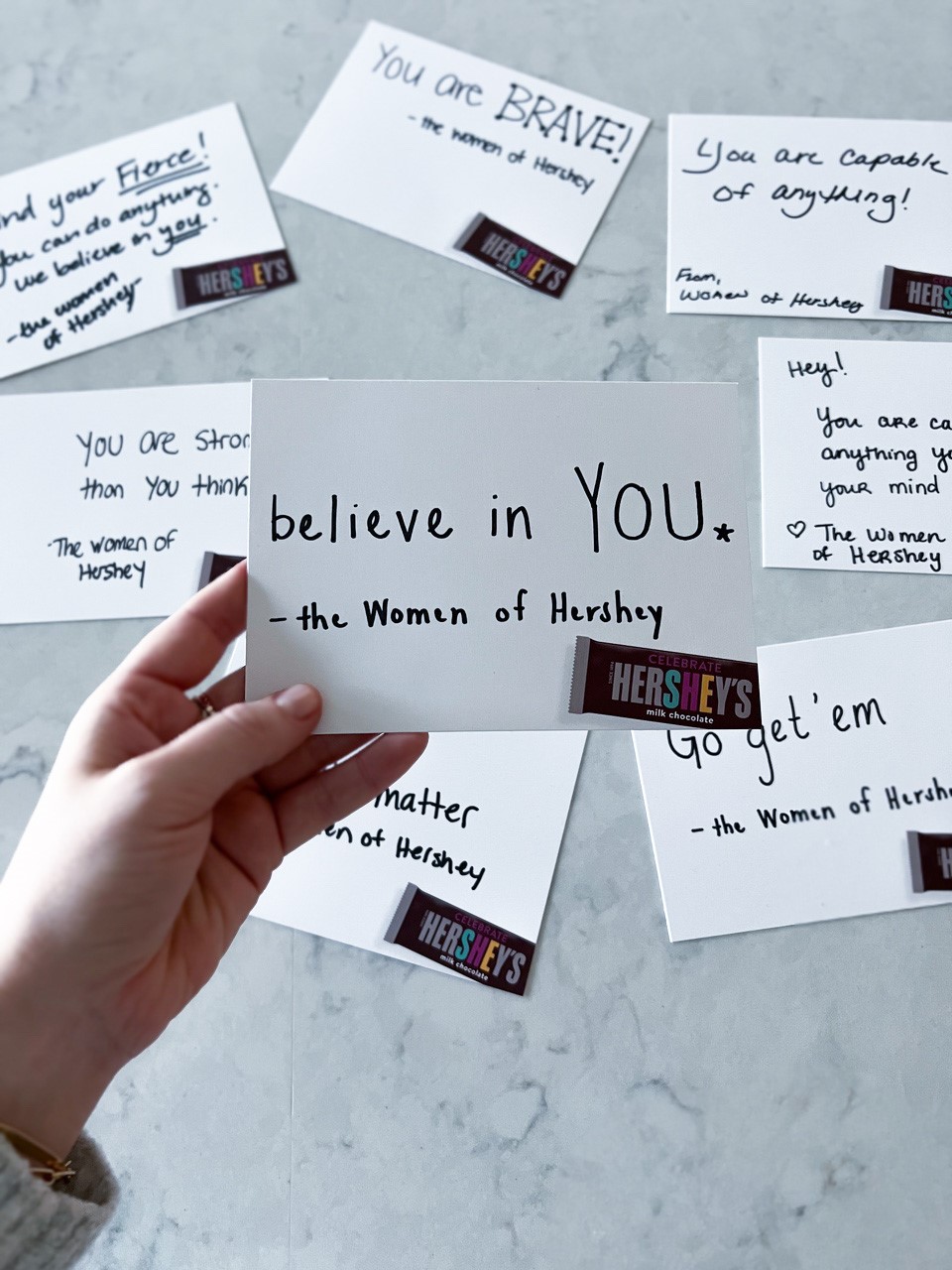 Which is why we're excited to make this effort to honor women and girls here at Hershey—on International Women's Day and every day. For more than 125 years, the purpose of our company has been to make more moments of goodness, and that's exactly what Celebrate SHE is doing: this is a new occasion to warm hearts and recognize women in our lives (whether celebrating HER accomplishments or all that SHE is). I'm excited to see consumers discover these unique bars on store shelves and pick up a handful to share with their daughters, their mothers, their girlfriends, their doctor, their book clubs, their teachers and, of course, themselves. I think back to how special I felt last year when a friend at work gave me my first Celebrate SHE bar. In fact, it's still sitting on my bookshelf, and it's become a symbol of strength, friendship and purpose. Handing someone a Celebrate SHE bar is such a small gesture, but the meaning is immeasurable. Of course, don't take my word for it. See for yourself!