The Reese's brand has the most passionate and outgoing fans in the world. For our fans, peanut butter and chocolate is part of their everyday lives. In fact, one third of Reese's fans say they eat a Reese's product every day1 and 75 million households eat Reese's every single year2.
Last October, we surprised some of our most loyal fans by announcing the upcoming launch of Reese's Outrageous bars – a brand new product that explodes with creamy Reese's Peanut Butter, smooth caramel, and crunchy Reese's Pieces, all covered in rich milk chocolate – with a surprise take-over of the "Halloween Spooktacular" in Royal Oak, MI. We brought together one of America's most loved candy brands and one of the country's most festive and outrageous Halloween towns for this first-of-its-kind, early preview of the brand's latest and greatest innovation. But fast forward to today – Reese's Outrageous is here and it's hitting store shelves, which means it's time for a launch of outrageous proportions.
As we worked towards developing our product launch, our only mandate was to continue to hero our outrageous fans. We knew we had to continue to put them front and center and reward them for their unique and, dare I say, outrageous displays of affection.
So, how do you find the most remarkable Reese's fans of all time? You check social media, of course.
IMPORTANCE OF SOCIAL LISTENING
For years, our fans innovation has been what has driven our own. We knew our fans were already acting on their fandom in outrageous ways, so the team devoured the internet to find the most over-the-top displays of Reese's love. We all know that social listening has become a vital factor for brands in today's digital world and through this we found exactly what we were looking for – truly outrageous acts of Reese's brand love deserving of a celebration. 
Super-fans create unexpected conversations when they post about their love for a brand on their social channels for audiences with millions of users. According to DigiDay, tapping super-fans is an approach increasingly used by brands and, when it comes to return on investment, the suggested value is higher than that of a typical influencer.
The magic happens when super-fans publish organic and authentic content that catches followers' attention. Once our favorite super-fans were chosen, we slid into their DMs offering a once-in-a-lifetime Reese's surprise.
THE CHOSEN ONES
When we came across Ivy Mitchell's hilarious tweet about having a bunch of Reese's eggs as her wedding cake we thought "now that's true love." We decided to make Ivy's dream come true and delivered an outrageous Reese's Egg cake to her door.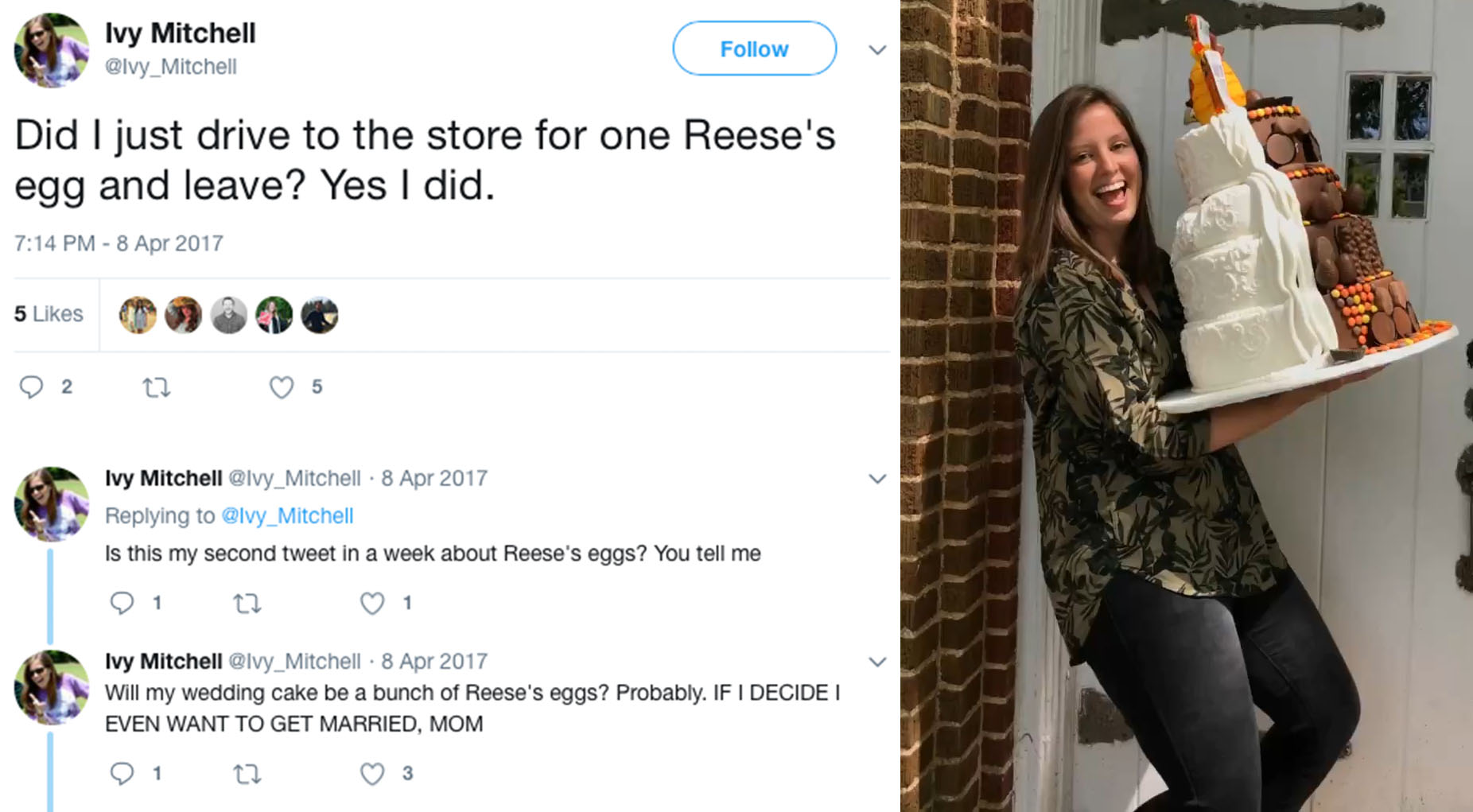 As we continued our quest to find the most outrageous Reese's fans, we came across this Reddit thread from Jon Ernst of Ohio basking in a tub of Reese's products. We knew this guy needed the ultimate peanut butter and chocolate party. So, the brand created an outrageous Reese's Oasis in his backyard, including an entire swimming pool full of Reese's products for his friends and family to enjoy.

Last but certainly not least, Brad Whiteside tweeted a video of the custom fridge he created to dispense Reese's Miniatures through the icemaker while keeping them from melting in the Texas heat – genius! We were so obsessed with Brad's invention that we decided to recreate and share it with his entire town. Today, which also happens to be "I <3 Reese's Day," a Reese's fridge will be dropped in the middle of Brad's hometown that will dispense free chilled Reese's Outrageous bars to passersby.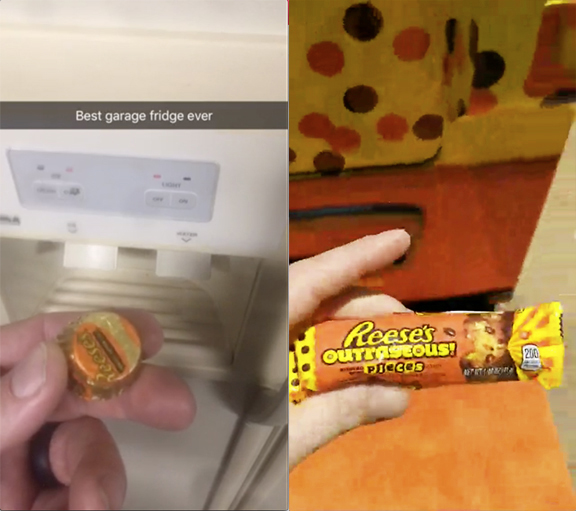 GETTING IN ON THE ACTION
It's not just previous stories from our fans that we are highlighting. Beginning today, Reese's is inviting all fans to get in on the action and share their own outrageous Reese's fandom acts for a chance to win free product and a cash prize. The first 100 qualified entries will receive a box of new Reese's Outrageous Bars, while one entry will be chosen by the brand to receive a year's supply of Reese's product and $10,000. Fans can post original photos and videos visualizing their outrageous Reese's fandom on Twitter or Instagram using #ReesesOutrageous. (NOTE: The contest will run from May 18 through June 1, 2018.)
With eight out of 10 people saying they like or love Reese's products1, there are plenty of fans to get in on the action. Adding this layer to the launch plan will help to continue the conversation beyond launch and get more fans involved.
We're just getting started with the new Reese's Outrageous bar and can't wait to see what comes next from our outrageous fans. Don't miss out on the outrageousness yet to come and follow along on social using #ReesesOutrageous.
(1) Online survey of 1,749 Americans who say they love or like Reese's candies, conducted between April 25-26, 2018. The margin of error is +/-2.1%.
(2) IRI Consumer Network