We knew we had "struck gold" - pardon the pun - after reading consumer feedback during testing of the Hershey's Gold concept. People were consistently intrigued. They were asking us: What did Hershey's Gold mean? What will it taste like? What will the texture be? Is it chocolate or something else?
The great news? Our early hunch proved to be right after we formally launched the brand on The Today Show, 100 days out from the Winter Olympics. We're painting the country Gold. 
The brand is off to a record-breaking start with the fastest distribution build of any instant consumable launch in the history of The Hershey Company. And the brand has already garnered two billion media impressions. The same intrigue and questions we saw early on are now  making their way throughout social media as fans discover Hershey's Gold.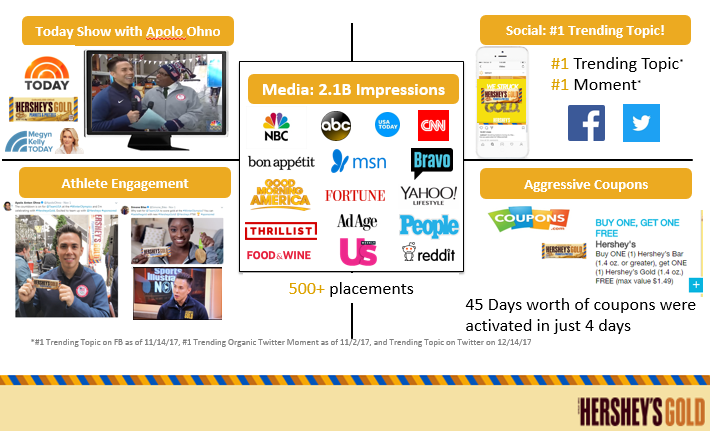 We owe much of our fast start success to our sales force and what they have been able to accomplish. Hershey's Gold truly takes an entire organization to make successful.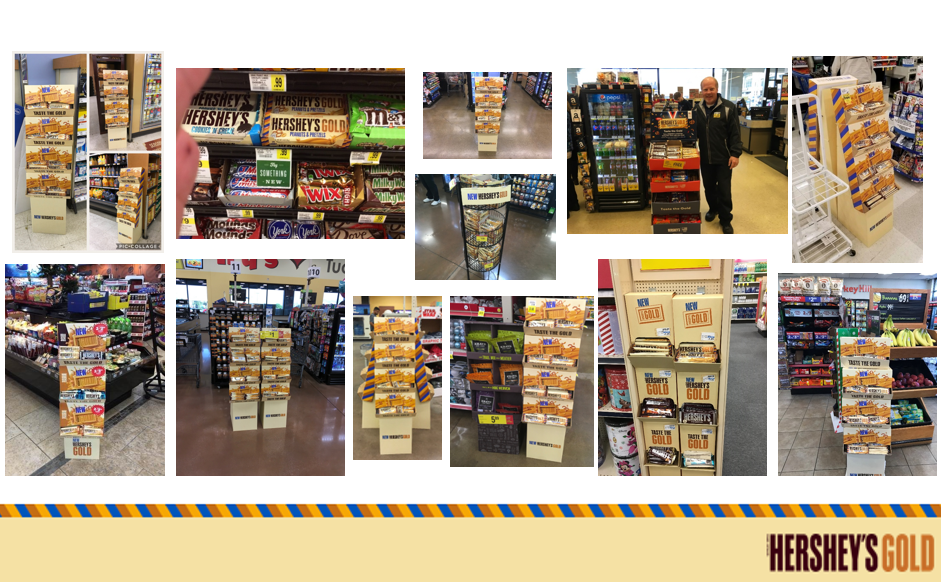 During the development of Hershey's Gold we identified three components that enabled the success of this launch:
Ideas can come from anywhere. Typically in innovation, ideas start with an ideation session where we identify broad creative white space territories to explore, then we write a concept and score it. The Gold idea started on the product side from our Research & Development (R&D) team. Our Master Chocolatiers follow confectionery trends around the world, and there was Blonde chocolate in Europe, but it was premium and usually made by adding different colors, flavors and inclusions to white chocolate. For Hershey's Gold, R&D developed a proprietary process of caramelizing Hershey's Crème to transform it into Gold. It's truly a capability that only Hershey has. That's what makes Hershey's Gold one of a kind. 
---
"The brand is off to a record-breaking start with the fastest product launch in the history of The Hershey Company. "
---
Take advantage of once in a lifetime opportunities. As we were developing this project, we realized there was an opportunity to own the conversation for the 2018 Winter Olympics by being the only manufacturer to launch a gold product and announce it 100 days out from the Olympics. It was a full team sport to bring this to the finish line from insights and operations, to go to market and product development. 
Design platform innovation to make a bigger impact. Gold is the most "platformable" innovation we have launched in a long time. We intentionally designed Gold to deliver a new experience and change the snacks category. We see this expanding across our portfolio through brands, channels and broader snacking. We're confident this will be a strong, sustainable innovation for many years to come.
On the dawn of this exciting Hershey's Gold launch and t-Minus one month for the opening ceremonies for the 2018 Olympics, we are so excited the company has been operating at full speed for the introduction of Hershey's Gold! Go Team Hershey!