Key Takeaways:
Here at Hershey, we are committed to creating a diverse and equitable workplace for all our employees.
The Hershey Company's 2020 Sustainability Report highlights our DEI goals and progress.
The Pathways Project focuses on creating new ways to join, reach out and grow for all employees to be part of creating a more diverse and inclusive workplace.
At Hershey, we firmly believe that diversity, equity and inclusion (DEI) are critical to our long-term success—not only in our workplace, but in the communities in which we operate and beyond.
Following the killings of George Floyd and Breonna Taylor last year, we doubled down on our DEI priorities that had begun prior to May of 2020. In the wake of these tragic events, we accelerated our commitments. Our call to action became clear—we needed to pause, engage with our employees and refresh and strengthen our inclusion strategy to meet the needs of all stakeholders, right here in Hershey, PA, and across the communities we serve.
Our priority was to ensure we were there for our employees and partners. We started by recognizing where we were as a company and took full responsibility for the fact that we needed to do better when it came to DEI—despite being ahead of the pack when it comes to pay equity.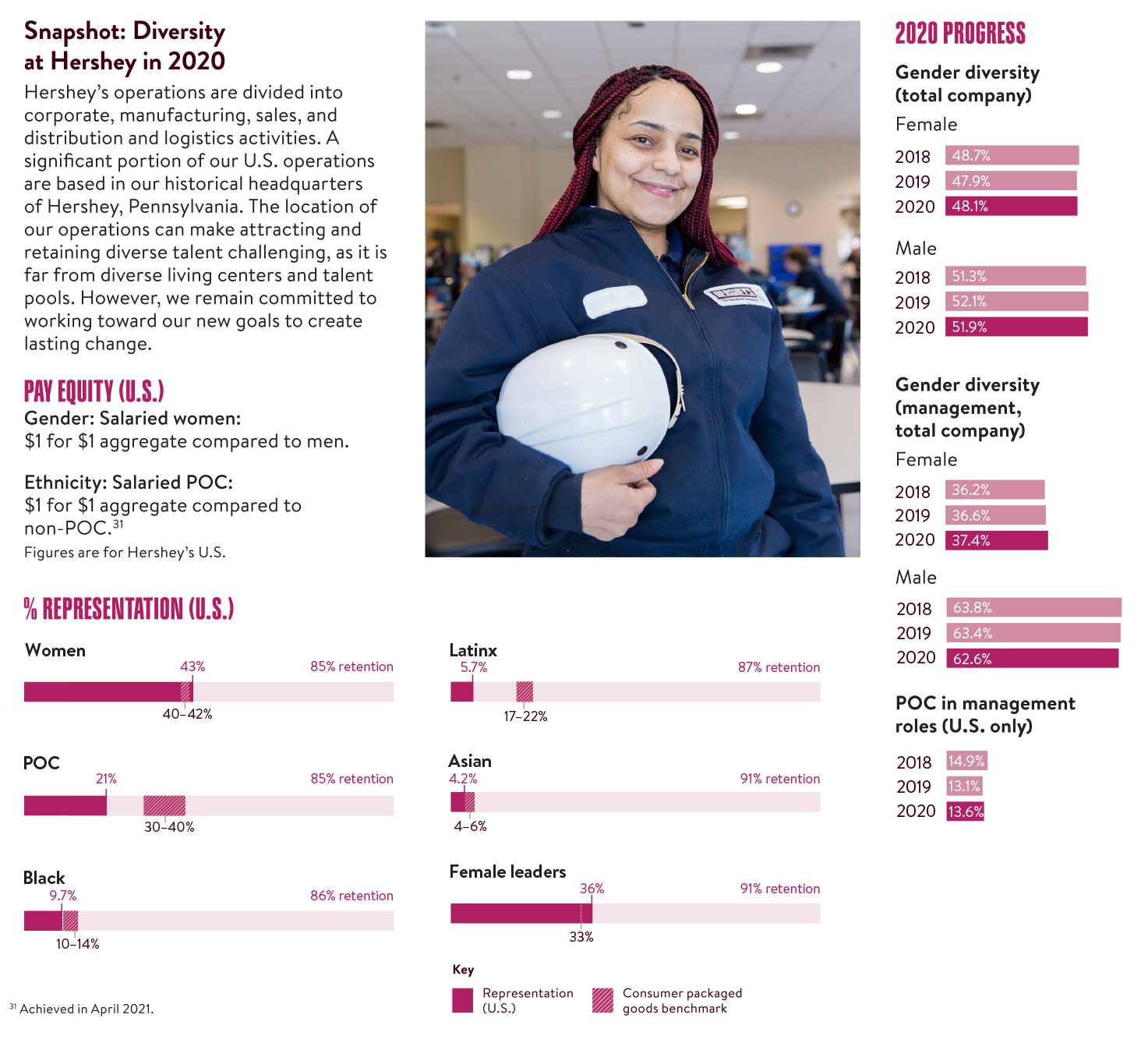 We hosted listening sessions and had tough conversations across our organization that really pushed us to think deeper to meet the needs of our teammates and communities. Through these honest, candid discussions, we strengthened our DEI practices enterprise wide, specifically focusing on training and education, hiring and career development, supplier diversity and consumer strategies. Our values of togetherness, integrity, making a difference and excellence took center stage, guiding us to establish an inclusive workplace for all. In our Sustainability Report, issued last week, we also announced the creation of ambitious new corporate goals around representation and equity paired with internal short-term goals to track our progress, aiming to set the bar for our industry. Achieving these goals are now a regular agenda item for Executive Committee meetings and tied back to executive compensation.

Our Sustainability Report also provides a look into our new Pathways Project, which launched internally last year to help us achieve these commitments. The program focuses on three pillars—pathways to join, reach out and grow—which together ladder up to Hershey's DEI strategy.
Pathways to Join: Attracting Diverse Talent and Perspectives
In embarking on The Pathways Project, we first assessed how we attract and recruit top talent. We subsequently identified the need to not only refresh our hiring practices, but reconsider how candidates are discovered, assessed and ultimately integrated into our culture.
As such, we empowered our employee-led Business Resource Groups (BRGs)—Abilities First, African American, Asian & Pacific Islander, GenH (Generations), Latino, Prism (LGBTQ+), Veterans and Women—to play a critical role in attracting diverse talent and connecting Hershey to communities where we can make the greatest impact. With these insights in mind, we collaborated on ambitious commitments to bolster Black and Latinx representation within our organization, while continuing to be a recognized employer of choice for women, people with disabilities, veterans, and LGBTQ+ employees.
Equipped with feedback from our internal teams, we championed diversity initiatives across all facets of our recruitment and hiring process. To support our pathways to join pillar, today, the goal is that every externally sourced role has a diverse slate before we move to interviews with a goal of 50 percent candidate diversity before the beginning of the interview process. Furthermore, we have a goal that Hershey's interview teams consist of at least 50 percent diverse employees to ensure the fair assessment of each candidate. To aid in developing a diverse candidate pipeline, we are also expanding our work with minority-owned talent search firms, setting a goal to have 30 percent of total search volume done by diverse-owned firms.
This new emphasis on diversity in our recruitment initiatives will strengthen our corporate culture to build the next generation of business leaders while keeping our people at the core of all that we do.
Pathways to Reach Out: Showing Up for Stakeholders in News Ways
In addition to fostering a diverse talent pipeline, we also shifted our lens of impact externally to identify opportunities for community partnership and support—not only in Hershey, but on a national scale to ensure we continue to show up in new ways against racism.
In our conversations with our employees, it was clear that a lack of opportunities for education created a huge barrier to success for underserved communities. Listening to this feedback, we committed a historic $1.5 million investment in the Thurgood Marshall College Fund (TMCF), establishing a scholarship endowment which will reach $3 million over the next 10 years to subsidize students pursuing degrees in food science—the first time a company has ever committed to endow a TMCF scholarship. We also assessed how we identify budding talent at the entry level and made the decision to prioritize 15 Historically Black Colleges and Universities, as well as 15 historically Hispanic-serving colleges and universities for recruitment purposes. Our goal is to achieve a college recruiting portfolio that is at least 50 percent diverse.
At a macro level, these interwoven initiatives will pave pathways to success while deconstructing barriers to entry which have long hindered the development and recognition of underserved communities.
Pathways to Grow: Capitalizing on the Strength of Existing Talent
Recognizing and developing diverse talent across all levels is crucial to our business as we move forward. In the past, as a company, nurturing diverse talent was not a priority, but through our Pathways Project, we are committed to changing this.
Today, we are improving access to training and educational resources on leadership, racism, unconscious bias, and well-being to ensure our workplace is regularly incorporating the learnings into behavior. We are also continuing to invest in early-in-career and mid-career development and training to develop commercial skills and career building for people of color (POC) and women.
These initiatives are already having a visible impact on the makeup of our workforce, from our manufacturing centers to corporate management. While we are immensely proud of this progress, we know there is still work to do.
As we look to the future of The Hershey Company, we will be guided by The Pathways Project holding ourselves accountable and informing each and every business decision to ensure that DEI stays at the forefront of Making Moments of Goodness, together.